Control Panel Designing & Maintenance Services - Empowering Control with Feyafy
At Feyafy, we understand that the heart of every operation lies within the control panel. Our Control Panel Designing & Maintenance Services are dedicated to providing you with intelligently designed control systems that empower your operations and ensure they run seamlessly. With a focus on innovation, expertise, and reliability, we take pride in being your trusted partner for control panel solutions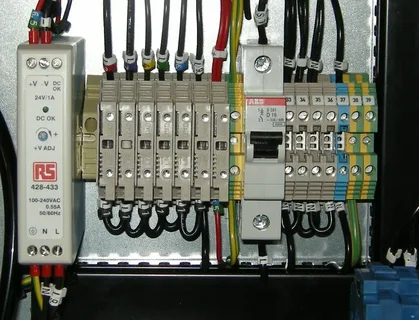 Feyafy has the required skilled personnel to design, install and maintain electrical control panel used in the industries to control production process or machines. Our team can design and build electrical control panels around components such as relay, contactor, timer, counter, breaker or around programmable devices such as PLC, PAC, VFD, IED, etc.
No two industries or operations are the same, and that's why we believe in customized solutions. Our Control Panel Designing Services begin with a deep understanding of your unique requirements. We collaborate closely with you to design control panels that align perfectly with your operational needs, ensuring efficiency, safety, and scalability.
Our team of experienced engineers combines technical prowess with innovation to create control panels that are both functional and future-ready. We leverage the latest technologies, intuitive interfaces, and ergonomic layouts to ensure that your control panels are user-friendly and efficient in managing complex processes.
Safety is paramount in control panel design. Our experts incorporate industry best practices to ensure that your control panels meet the highest safety standards. From proper labeling and isolation to emergency shutdown mechanisms, we prioritize the well-being of your personnel and assets.
A well-designed control panel enhances efficiency. We optimize the arrangement of components, wires, and interfaces to minimize downtime, streamline operations, and reduce the risk of errors. The result is a control panel that facilitates smooth workflows and minimizes disruptions.
Contact Feyafy, through our contact form for more information.
Our Electrical Control Panel Maintenance Services Helps Our Clients Achieve
Improves safety for facility and technicians
Provides assurance that protective devices will function
Reduces risk of equipment and system failure
Minimizes losses in production and service to customers
Enables equipment / system to operate at peak efficiency
A control panel is only as effective as its maintenance. Our Control Panel Maintenance Services are focused on proactive care to prevent issues before they escalate. Regular inspections, cleaning, and testing are integral to our approach, ensuring that your control panels remain in peak condition.
Even the most well-maintained systems can encounter issues. Our maintenance team is equipped to swiftly address any problems that arise. We offer timely repairs, using high-quality replacement components to ensure that your control panels are up and running without unnecessary delays.
Control panels play a critical role in operations, and their performance must be flawless. Our maintenance team conducts thorough performance testing to verify the functionality, accuracy, and reliability of your control panels. This step ensures that your operations continue to run smoothly and efficiently.
Upgrade and Modernization
As technology evolves, so should your control panels. Our maintenance services encompass upgrades and modernization to keep your control panels aligned with the latest advancements. Whether it's integrating new sensors, improving automation, or enhancing connectivity, we ensure your control panels remain cutting-edge.
Control panel issues can disrupt your operations, which is why we offer emergency support to address urgent matters. Our quick response team is available around the clock to diagnose, repair, and restore your control panels to operational status swiftly.
We can equally conceptualize, design and build a control panel for individual equipment based on the working principles
Experience the Power of Control with Feyafy
Control Panel Designing & Maintenance Services from Feyafy aren't just about circuits and wires; they're about enabling efficient operations, enhancing safety, and future-proofing your systems. When you choose Feyafy, you choose control at its best. Experience the difference in efficiency, innovation, and reliability with our expert control panel solutions.